[:en]
2 liter Afl. 21.00 (incl. OB)
Wipe & Clean ku zeta esensial di Menta
Wipe & Clean ta un produkto pa limpiesa ku Mikro-organismo Efektivo.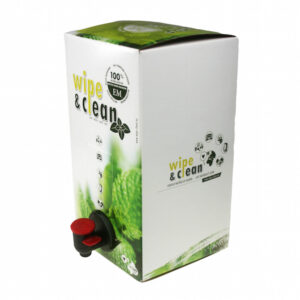 E ta mashá partikular pasobra e ta e promé produkto pa limpiesa ku ta limpi di su mes.
Produktonan di limpiesa normal ta limpia, pero den mayoria kaso nan ta venenoso.
Pa disolbé produkto di limpiesa pa wc biológiko tin mester di 20 bia ménos awa ku un dje produktonan konvenshonal.
Pa Wipe & Clean no mester di awa mes, anto ta 100 bia mas awa salú ta wòrdu produsí i añadí na naturalesa.
Esaki ta e solushon pa famia ku mucha chikí.
Ingrediente:
Awa, zür orgániko, EM(mikro-organismo efektivo), alkohòl, karbohidrato, enzíma, ekstrakto di salvado di trigu.
Wipe & Clean ta bin den un saku den un kaha "bag in box". Un saku di plèstik ku ta kremp segun bo ta us'é, pa airu no yega serka e Wipe & Clean.
Wipe & Clean ta originá pa fermentashon di un fuente di nutrishon ku EM. Fermentashon ta un téknika hopi bieu ku ta pèrkurá pa e "mikro-organismonan positivo" oumentá, manera p.e. den e kaso di biña, zürkol i serbes. E zürnan orgániko ku ta keda produsí (pH 2,9) ta kita e sushi i konsekuentemente nan ta keda eliminá pa e mikro-organismonan di Wipe & Clean. Esaki ta origen di un klima puru i fresku.
Wipe & Clean ta un produkto di limpiesa general i por keda apliká tantu paden komo  pafó di kas:
Baño i tualèt
Flur
Bentana
Muebel di kurá
Medio pa pone tayó briya
Remplasante parsial di habon pa laba paña i tayó
Den kombinashon ku un detergente ekológiko pa laba tayó
Medio pa remohá paña
Dor di su pH abou Wipe & Clean no ta disolvé vèt manera mayoria legía (pH 11,5 – 13,0) ku ta ser usá den laba plato industrial. Por meskla e produkto sí ku habon natural  pa eliminá mancha persistente.
Instrukshon pa uso:
Pa limpiesa 1:100 (10 ml riba 1 liter)
Spùit baño i kushina ku un solushon di 0.1 : 10 liter (10 ml riba 1 liter) i laga para pa ± 20 pa 30 minüt. Limpia ku un paña i hawa e paña den e mesun solushon.
Laba bentana ku un solushon di 0.1 : 1 liter (10 ml riba 1 liter).
Remohá paña den un solushon di 0.1 : 10 liter (10 ml riba 1 liter) pa ± 2 pa 12 ora
Spùit Wipe & Clean 1:10 ( 10 ml riba 100 ml) den kouchi di bestia kontra mal holó.
Spùit Wipe & Clean 1:10 ( 10 ml riba 100 ml) den kònteiner di sushi pa lòs e sushi i kita mal holó.
Laga paña hopi sushi drumi 2 pa 12 ora den Wipe & Clean 1:100 (10 ml riba 1 liter).
No us'e riba meubles di kas di palu, porta i bentana di palu
——————————————————————————————————————-
Wipe & Clean with Mint
Wipe & Clean with holy basil is the latest cleaning product with micro-organisms.
This cleaning product is very special because it's the first cleaning product that is clean itself. Most cleaning products clean, but are often toxic.
That's not the case with Wipe & Clean. That's why Wipe & Clean could be a solution to a family with kids.
Ingredients:
Water, organic acids, EM effective micro-organisms, alcohol, carbohydrates, enzymes, extracted wheat bran.
Wipe & Clean can be used as a cleaning product in the kitchen, the bathroom, in the washing machine and drain pipes, in the car, on carpets and lots
It is also highly useful to wash windows (just add a splash to the water) of other applications.
It can also be added to the laundry, so less detergent is needed.
Usage:
Use as a cleaning product: dilute 1 on 100 (10 ml on 1 liter)
Wipe & Clean comes in a handy "bag in box"; a plastic bag which shrinks when draining, so that no oxygen can get to the Wipe & Clean.
Mix Wipe & Clean in a spray bottle and fill the bottle with tepid/warm water (dilute 1 part of Wipe & Clean on 100 parts of water). Remove dust like you normally do.
Do not use on wooden house furniture, doors and windows.
———————————————————————————————————————-
Wipe & Clean met Munt
Wipe & Clean is het nieuwe schoonmaakmiddel met EM micro-organismen.
Dit schoonmaakmiddel is heel bijzonder want het is het eerste schoonmaakmiddel dat schoon is van zichzelf. De gebruikelijke schoonmaakmiddelen maken schoon maar zijn in de meeste gevallen giftig.
Dat is nie het geval met Wipe & Clean. Een uitkomst bij een gezin met kinderen.
Wipe & Clean kan als schoonmaakmiddel gebruikt worden in de keuken, de badkamer, in de wasmachine en in afvoerputjes, bij de auto, bij tapijt en andere legio toepassingen.
Het is ook zeer geschikt om ramen te wassen (scheutje bij het water).
Het kan ook bij de was gedaan worden, waardoor minder wasmiddel nodig is.
Gebruiksaanwijzing:
Gebruik als schoonmaakmiddel: aanlengen 1 op 100 (10 ml op 1 liter)
Ingrediënten:
Water, organische zuren, EM effectieve micro-organismen, alcohol, koolhydraten, enzymen, geëxtraheerde tarwe zemelen.
Bekijk de brochure. Zelfs een professioneel schoonmaakbedrijf (F.T.C.) gebruikt Wipe & Clean  voor diepreiniging.
Wipe & Clean zit in een handige "bag in box". Een plastic zak die bij aftappen inkrimpt, zodat er geen lucht bij de Wipe " Clean komt.
Meng Wipe & Clean in een sprayflacon en vul de flacon aan met lauw/warmwater (aanlengen 1 deel Wipe & Clean op 100 delen water). Neem stof en vuil af zoals u dat normaliter gewoon bent.
Tips
Voor hardnekkig vuil zoals groene algenaanslag op houtenvlonders of stoeptegels kunt u de verdunning ca. 6 tot 10 uur laten weken voordat u met een hoge druk reiniger de aanslag verwijdert.
Week zilveren bestek een nachtje in een emmer water verdund met Wipe & Clean 1:100. Wrijf met katoenen doek op.
Vernevel Wipe & Clean 1:10 in de dierenverblijven tegen ongewenste geuren.
Vernevel Wipe & Clean 1:10 in de afval containers om vuil los te weken en nare geuren te onderdrukken.
Wipe & Clean is een uitstekend inweekmiddel voor sterk vervuild wasgoed, ca. 2 tot 12 uur weken in Wipe & Clean 1:100.
Let op: Wipe & Clean heeft een pH (zuurgraad) van 2,8 en kan bijtend werken op zachte of poreuze materialen zoals hout of natuursteen.[:]