[:en]
150 ml    Nafl. 19.00  (incl. OB)
Prominant Spray
Deskripshon di produkto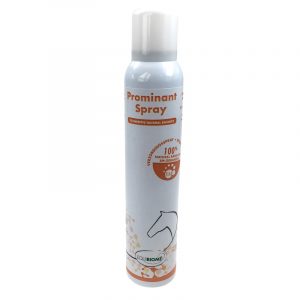 EM Spray pa kabai. Pa remediá i prevení problema di kueru, problema ku e pata di kabai (manera "mok i regenschurft").
Usa Prominant Spray pa fortalesé e flora di e kueru. Dor di spùit mikro-organismo efektivo riba e kueru, por yuda prevení e desaroyo di hopi problema di kueru.
Den wenter ta rekomendá pa trata e kabai ku regularidat, si ta bai usa un mantel pa e kabai.
Uso regular di Prominant Spray ta yuda mantené òf restablesé e ekilibrio di mikrobio.
Nota: No usa Prominant Spray pa desinfektá herida abrí. Entrada di mikrobiologia den e sirkulashon di sanger por tin hopi konsekuensia.
---
Product Description
EM spray for horses. To remedy and prevent skin problems, and hoof problems (such as mug, rain scab, etc.).
Consistent use of the Prominant Spray helps maintain or restore the microbial balance.
Use the Prominant spray to strengthen the skin flora. Spraying effective microorganisms over the coat can help prevent the development of numerous skin problems. In the winter, for example, regularly "treat" your horse under a blanket. This is definitely recommended!
Note: Do not use Prominant spray as a "disinfectant" for open wounds. The introduction of microbiology into the bloodstream can have many consequences.
---
Product Beschrijving
EM spray voor paarden. Om huidproblemen, hoefproblemen te verhelpen en te voorkomen (zoals mok, regenschurft…)
Consequent gebruik van de Prominant Spray helpt het microbiele evenwicht te behouden of te herstellen.
gebruik de Prominant spray voor het versterken van de huidflora. Het sprayen van effectieve micro-organismen over de vacht kan het ontwikkelen van tal van huidproblemen helpen voorkomen. in de winterperiode bijvoorbeeld uw paard onder deken geregeld 'behandelen'. is zeker een aanrader!
Opgelet: Prominant spray niet gebruiken als 'ontsmettingsmiddel' voor open wonden. de intrede van microbiologie in de bloedbaan kan tal van gevolgen hebben.
---
Descripción del producto
EM Spray para caballos. Para remediar y prevenir problemas en la piel, problemas en las pezuñas (como jarrón, sarna etc.)
Utilice el spray Prominant para fortalecer la flora de la piel. La pulverización de microorganismos efectivos sobre el pelaje puede ayudar a prevenir el desarrollo de numerosos problemas de la piel. En el invierno, por ejemplo, "trate" regularmente a su caballo si usa una manta. Esto definitivamente se recomienda!
El uso constante de Prominant Spray ayuda a mantener o restablecer el equilibrio microbiano.
Nota: No use el spray Prominant como "desinfectante" para heridas abiertas. La introducción de la microbiología en el torrente sanguíneo puede tener muchas consecuencias.[:]