[:en]
Flairosol  300ml         Nafl. 17.00   incl. 6% OB
Splikashon di produkto
E bòter di plèstik pa spréi di 300 ml ta úniko den su sorto. E tin un saku vaküm, ku ta evitá ku airu ta drenta i e Wipe & Clean òf Microferm ta keda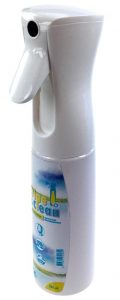 mas tantu tempu bon den e bòter.
E bòter di spréi aki ta saka un neblina i ta keda spùit algún sekònde ora bo laga e palanka di spùit lòs. Esaki ta pèrkurá ku e Wipe & Clean òf e Microferm ta plama nèchi riba e superfisie òf den e espasio ku bo ke trata.
E ta un atkisishon esencial pa bo kas. Un idea práktiko ta un bòter den kada kamber: den tualèt, kushina, baki di pushi, outo, hasta den kouchi di galiña etc.
Tene kuenta!
Usa solamente Wipe & Clean òf Microferm diluí. (1:100)
Ta posible ku e mekanismo di neblina por daña si usa Wipe & Clean òf Microferm puru.
---
Fairosol   300ml
Product Description
This refillable 300 ml plastic bottle is unique in its kind. It has a vacuum bag, so no air is added and the Wipe & Clean or Microferm stays longer in the bottle.
This spray bottle sprays a mist and continues to spray for a few seconds when the spray lever is released, which ensures that the Wipe & Clean * or Microferm can be beautifully spread over the surface to be treated.
It is an indispensable asset for the household. A bottle in every room is a practical idea: in the toilet, the bathroom, the kitchen, at the litter box, in the car, with the chickens, etc.
Pay attention!
Use only diluted Wipe & Clean or Microferm in the Flairosol spray bottle (1: 100). There is a chance that the spraying mechanism stops working when used undiluted.
---
Flairosol    300ml
Product Beschrijving
Deze hervulbare kunstof fles van 300 ml is uniek in zijn soort. Het heeft namelijk een vacuumzak, waardoor er geen lucht bijkomt en de Wipe &Clean of Microferm langer houdbaar blijft in de fles.
Deze spray-flacon spuit een mistachtige nevel en blijft enkele seconden doorsprayen als de spuithendel is losgelaten, wat ervoor zorgt dat de Wipe&Clean* of Microferm mooi over het te behandelen oppervlak verspreid kan worden.
Het is een onmisbare aanwinst voor het huishouden. Een fles in elke ruimte is een praktische idee: in de toilet, in de badkamer, in de keuken, bij de kattenbak, in de auto, bij de kippen, etc.
Let op!
Gebruik alleen verdunde Wipe &Clean of Microferm in de Flairosol spuitfles (1:100). Onverdund is er kans dat het spuitmechaniek ermee stopt.
---
Flairosol   300ml
Descripción del producto
Esta botella de plástico recargable de 300 ml es única en su tipo. Tiene una bolsa al vacío, por lo que no se agrega aire y el Wipe & Clean o el Microferm se mantienen sostenible por más tiempo.
Esta botella rociadora rocía una neblina y continúa rociando durante unos segundos después de soltar el mango del rociador, lo que garantiza que el Wipe & Clean * o el Microferm se puedan esparcir bien sobre la superficie a tratar.
Es una adquisición esencial para el hogar. Una idea práctica es tener una botella en cada habitación: en el baño, la cocina, la caja de arena para gatos, el automóvil, y hasta en la gallinera, etc.
¡Por favor tenga en cuenta!
Utilice únicamente Wipe & Clean o Microferm diluido en la botella de spray Flairosol (1: 100). Existe la posibilidad de que el mecanismo de pulverización se dañe al usar el Wipe & Clean o el Microferm no diluido.[:]