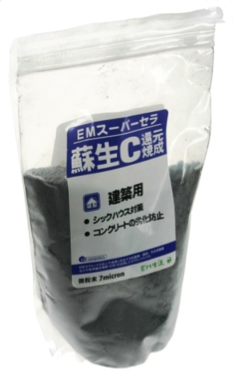 Saku / bag 1 kilo Afl 94.34 (ex OB)
Saku / bag ½ kilo Afl 52.83 (ex OB)
Saku / bag ¼ kilo Afl 27.83 (ex OB)
EM-X
EM-X ta un anti-oksidante fuerte ku a ser fabriká pa uso humano.Ta fèrmentá klei ku mikro-organismo promé ku hink'é na fòrnu pa asina traha EM-Serámika.
E mikro-organismonan no ta haña chèns di skapa i ta mantené nan efektividat pa largu tempu.
EM-Serámika tin e poder pa desaktivá rayonan elektro-magnétiko i ultra-violeta.
E ta suprimí elektrisidat státiko i ademas e tin kapasidat di disminuí e resistensia di elektrisidat.
Uso:
Pa drecha tera ½ kilo pa 100 m²
Un par di telep den e Hèmber di Kushina ta yuda aselerá fermentashon i hasi e Bokashi mas fuerte.
2 gram pa kada liter di awa ta drecha e struktura di awa ora ta traha EM-A
Tep:
Meskla 1 – 2 % puiru di e peso òf volúmen den:
Tera pa mata
Fèrf
Betòn
Leim
Klei pa traha obra di man
Sefta e puiru den un sefta fini promé ku meskla.
EM-X Ceramic Super Cera-C powder
EM-X is a potent antioxidant that has been developed for human usage.
Clay is fermented with effective microorganisms, then baked to form the EM-Ceramic.
It will be impossible for the microorganisms to escape. So their effect remains for a long time.
EM-Ceramics has the power to neutralize harmful electromagnetic and ultraviolet radiation; it suppresses static electricity and is also able to reduce electrical resistance.
Usage:
As soil improver: ½ kg per 100 m2
When making Bokashi: a few tea spoons per EM Bokashi bucket for a quicker fermentation and more powerful Bokashi
When brewing EM-A: 2 grams per liter for an improved water structure and EM-A
Tips:
Mix 1 – 2 % of the powder by weight or volume in:
Garden soil
Paint
Concrete
Adhesive
Clay for making pottery
Sift the powder carefully over a fine sieve before being mixed